MECHANICAL ENGINEERING CORE AREA:
CONSTRUCTION MACHINES, AGRICULTURAL AND FORESTRY MACHINES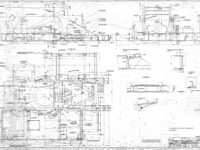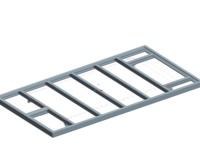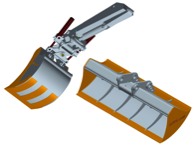 ENGINEERING FOR THE UTILITY VEHICLE INDUSTRY, e.g. attachments and equipment as well as frame cons-
tructions for commercial vehicles. Structural components are designed using the latest CAD tools and optimised with the aid of tried and tested calculation tools for the application concerned. According to the specific boundary conditions, different grades of high- strength fine- grain construction- steels are used to realise weight- optimised structural components with high safety reserves and the required wear- resistance. Based on many years of experience in the commercial vehicle sector, we are able to develop a top- class solution for our customers in a short time with the additional option of manufacture realisation.
SPECIAL- PURPOSE MACHINES, TOOLS AND EQUIPMENT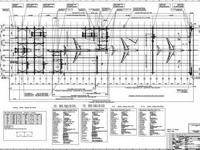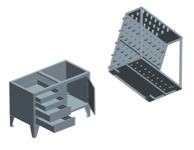 CONSTRUCTION OF SPECIAL-PURPOSE MACHINES: Conceptual planning, configuration and modelling of special- purpose machines, such as e.g. forging presses, welding seam rollers, grinders, rotary devices, and others. The various machine construction projects can be undertaken by us as a whole, ranging from layout planning to detailed design and the preparation of technical drawings and documentation, or parts thereof.
TOOLS AND EQUIPMENT: We especially design and manufacture tools, fixtures, and auxiliary equipment to optimise manufacturing and assembly such as e.g. deep drawing punches and dies, turning devices as well as welding and assembly devices of all kinds. We also provide solutions for large series products, such as e.g. tool holders and tool cabinets, which may be also be manufactured according to modular design or as modular systems. Our customers can basically expect design solutions that are well-conceived with regard to manufacturing technology and which may be efficiently and easily implemented in 3-D CAD systems.
PLANT AND TANK CONSTRUCTION:
APPARATUS, TANK AND PIPELINE CONSTRUCTION, ESPECIALLY FOR THE
BEVERAGE, CHEMICAL AND PHARMACEUTICAL INDUSTRY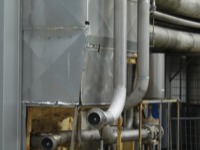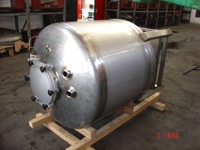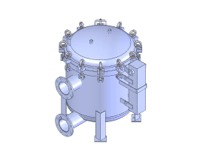 ENGINEERING IN THE FIELD OF PLANT CONSTRUCTION: Design of heat exchangers, filters as well as storage tanks and bulk material containers in various sizes. Containers are calculated to withstand static and dynamic loads, such as snow and wind loads, pressure, vacuums and temperature effects, etc. All designs comply with currently applicable technical regulations such as DGRL 97/23/EC, ASME and other specific technical regulations (e.g. standards for access ladders, handrails, working platforms etc. as well as works standards). Our many years of experience in processing chromium- nickel steel are reflected in our design solutions. We also draw up production plans, welding instructions, welding sequence diagrams etc. on request.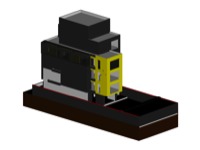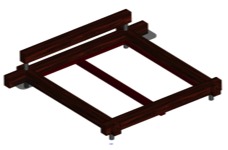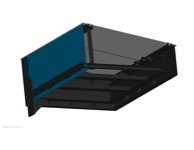 An additional field of business activity has arisen in response to an increasing number of inquiries from customers outside the machine construction sector, such as the building branch or the furniture industry. In the former case, entire buildings were partly represented in 3-D so as to optimise the planning process with regard to design and furnishings as well as for the purpose of presentation and visualization of current and future projects. Basically speaking, we are able to manufacture a wide range of components relevant to buildings. Examples of these include access gates, steel structures for small and medium-sized halls, patio rooves, mechanical lifting and lowering devices for garages etc. In the case of furniture manufacturers, several new models were created in 3-D for their future series production, e.g. beds, cupboards, shelves or very specific furniture designs e.g. belonging to a particular design line.
PLEASE NOTE:
Various reference projects cannot be published due to confidentiality agreements.